Employment
Interested in employment at G&H Distributing?
---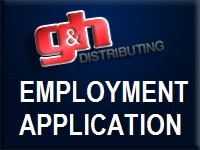 At G&H Distributing, we have approximately 35 employees in a variety of job positions ranging from accounting and sales to warehouse operations and assembly work. We accept all completed employment applications regardless of current opening status. Download Employment Application or stop by our 900 W. Russell office to fill out an employment application today.


G&H offers a flexible schedule for part-time employees and will work around class schedules. All applications are accepted. Must be at least 18 years of age to be considered for employment. For questions regarding job postings or available openings contact our human resources department preferably by email at hr@ghdistributing.com or by phone at (605) 334-7131.


---